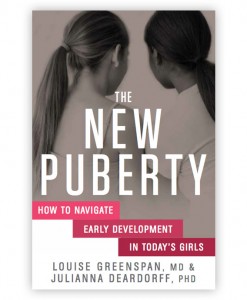 What happens when a girl has the brain of an 8 year old and the body of a 13 year old?  Good question and it's one that many are asking – not so much out of curiosity, but out of necessity.
Puberty is a complex stage in a girl's life and with puberty arriving earlier, the #NewPuberty TweetChat is as timely as the book that inspired it.  (Learn more about the book.)
What is #NewPuberty?  It's an opportunity for parents, educators, coaches, caregivers, and any one who works with or spends time with girls to learn more about what puberty is like for girls today, when it typically occurs, and how to be supportive.
Who's hosting?  @PeriodWise & @AuntFlo_28
Where is it? This one hour real-time event is on Twitter
When is it?  November 4 at 1:00 PM ET
How to participate? Follow #NewPuberty on Twitter or use one of the many platforms that make tweet chatting in real time even easier (Twubs or Tweetchat)
Why #NewPuberty?  Because more and more we are hearing the question: is she entering puberty too early? And, the answer all too often is YES. #NewPuberty provides tools for navigating early development in girls.
RSVP below by sharing your Twitter name. 
One lucky winner will receive a copy of New Puberty: How to Navigate Early Development in Today's Girls.  To be eligible to win you must RSVP here, and contribute at least one tweet during the Twitter party on Nov. 4.