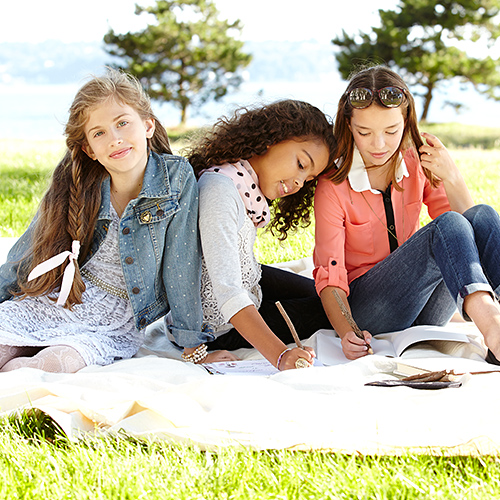 The count down to the first day of the 2014-15 school year has begun.
Back to school shoppers are filling the local stores as parents and children select school clothes and classroom supplies.
On the list of must purchase items should be period supplies if you have girls who could start or have started to menstruate.  And, along with period supplies should be a period pack for school – something small and discrete, yet big enough to contain necessary products and an extra pair of panties.
Back to school period wise thoughts follow.  (Additional thoughts are welcome!)
It's estimated that 3 in 10 girls have begun puberty by 8 years of age.  Most girls will experience menarche as tweens.
With this in mind, it's period wise to be prepared and the best way is to have a period pack handy at school (either in the locker, backpack, or purse).
Any small bag will work. Ex: A small makeup bag is perfect for holding a few liners, pads, or tampons, as well as an extra pair of panties.
If your daughter has not yet begun to menstruate, make sure she knows what to do in the event she starts.
If your daughter is new to menstruation, having a plan in place and her period pack with her will ease the transition from home to school and will calm any anxiety she may have as well as prevent embarrassment should her period arrive unexpectedly while at school.
If your daughter is a period pro and feels ready to move from pads or tampons to something more exciting (like cups) encourage her.  Periods often fall on weekends and holidays – what better time to learn the ins and outs of cup use!
When it comes to girls and menstruation, it's best to prepare for the unexpected. Sometimes you just never know, and if she's prepared, she's confident.
If your daughter has already begun to menstruate, make sure her school period pack has a day's worth of product plus 1.
If she has not yet started, make sure she knows what to do if she starts her first period while at school.
Also, help her have a plan in place in the event that she doesn't have her period pack, or forgets to bring more product to school and suddenly discovers she needs it. She needs to know what to do in just such an emergency, and who to go to for help. (School nurse, school counselor, teacher, friend)
If your daughter has begun to experience vaginal discharge or expresses concern that her period may start, liners are terrific little confidence boosters.
Leaks are a big concern.  Have an anti-leak plan and a contingency plan in case she does experience a leak.
Talk through different possibilities with your daughter and come up with a plan for each.
If possible, before school starts, walk through the school with your daughter – visit the restrooms and look for receptacles. She will need to know what to do with used menstrual products.  (Flushing is not an option.)
Preparation is the key, period wise. And, it can make for an awesome, confident start school wise.