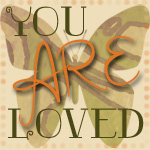 Friday, January 10, 2014 at 2 pm ET, people are coming together on Twitter for #PeriodTalk. (that's 1 pm CT, 12 pm MT, 11 am PT)
This month the #PeriodTalk TweetChat will focus on raising awareness about tampon related Toxic Shock Syndrome (aka TSS).
You ARE Loved, a non profit dedicated to raising awareness about tampon related TSS will be the guest and will be tweeting as @youarelovedTSS.  Be Prepared Period will be the host and will tweet as @bpreparedperiod.
This hour long event will offer information about Toxic Shock Syndrome via tweets, advice on how to avoid it and what to do if you (or someone you know) develop symptoms. And, there will be time for questions and comments.
It's period wise for women, as well as men, to be aware of TSS and its symptoms. Young girls, teens and young women are at the greatest risk and often mistake it for the flu. Know the facts and know how to get help for yourself or for a friend/family member if symptoms arise.
If you're not familiar with TweetChats or want more information about #PeriodTalk, drop by Be Prepared Period's site and find out how it all works.  It's an awesome chat…a period wise chat. And, it happens the second Friday of each month.
Hope to see you there!
#TSSawareness   #periodtalk   #womenshealth   #periodwise  #TSS