Do you remember what it was like to be 7 years old?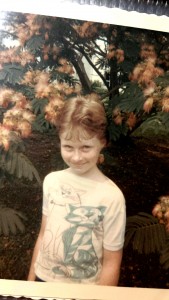 I was looking through Mom's photo albums recently and came across pictures of me at age 7.  Wow, that was such a fun age!  Ages 7-10 were some of my most memorable years – filled with amazing fun and awesome vacations.
It was a carefree time – an innocent time – play time.
As I looked at the pictures, I recalled two worries I had at that age.
Mom's vacuum (it ate my Barbie's shoes and I believed it could eat ME if given a chance).
Getting all E's in school (E was for excellent – S, for satisfactory, was not deemed good enough).
Menarche was not a word in my vocabulary.  And, the only period I knew of belonged at the end of a sentence.
When a 7 year old girl gets her period, she has a lot more on her mind than picking up her toys and getting good grades. Check out my guest post: What happens when a 7 year old girl gets her period? and see what menarche is like for many girls.
The Society for Menstrual Cycle Research blog re: Cycling has focused on Menarche the entire month of September.  Loads of terrific info on menarche and menstruation can be found in the guest posts.  Be sure to scroll down through the September, 2015 posts. You won't want to miss any of them!