What's in YOUR tampon?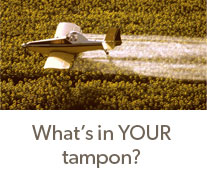 Don't know?
Then why is it in your vagina?
Seriously, Ladies – why is it in your vagina if you don't know what's in it?
Hello? Can I get an amen on that?
Please, stop and think what it is you are placing inside of you.
I know tampons are convenient – believe me…I know.
But, when you slip a traditional tampon (think Playtex, Tampax, Kotex, U, O.B.) inside of you, some very nasty chemicals leach out of the tampon and into some of the most delicate tissues your body possesses.  And, these chemicals can and do cause a wide array of health issues.
Take a look at your tampon box.
Do you see a full list of ingredients?  What about chemicals involved in manufacturing, bleaching, creating, disinfecting the materials used in these tampons?  Do you see them listed?
Ever wonder why not?
There's good reason for companies not to list these harmful ingredients.
If you knew what you were doing to your body each time you inserted a tampon that is anything other than 100% natural, certified organic cotton (no defoliant, no chlorine, no chemicals, no synthetic fibers) – you would choose a more health and body friendly option.
And, that would mean less revenue for big companies.
It's all about the money.
BIG money.
Big, big money.
It's not just tampons.  No.
What about disposable pads?  Ever think about the chemicals that are in those things?  Ew…and we place them snugly against our lady parts without consideration to what they are releasing into our bodies each time we sit on them.
And, diapers…disposable baby diapers.
What are we doing to ourselves, to our children…to their children?
It's time these companies, that have taken our money for oh so long, to come clean about what they have been and continue to sell us.
And, it's time for us to say "NO MORE!"
If they want our money, then they need to be open and honest with us about everything that's in them.  We deserve that! YOU deserve that. Your daughter and granddaughter deserves that.
And, until they do – we need to rethink our menstrual hygiene in such a way to avoid using their products.
And, we need to warn others.
Buyers beware.
What's in your tampon? It could be killing you and big business doesn't want you to know, doesn't want to lose your business…your money.
Sounds to me like they really don't care about us…they just care about our money.
Be period wise.
Tell big business to stick it up theirs and you go find an alternative menstrual hygiene option that's safe, healthy and reusable. Save the money you've been giving them and invest in yourself – invest in your dreams, not theirs.
That's period wise.