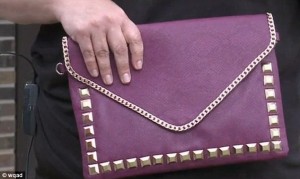 This is my fifth post on the Galesburg High School concealed carry story and the #ConfidentCarry campaign to raise awareness of the plight of menstruating girls and women everywhere.
My comments would be incomplete without offering a solution to the ongoing problem of inappropriate and inconsiderate behavior toward menstruating humans, and the lack of confidence many who menstruate have regarding themselves and their experience.
What's the solution?
As I see it, the answer is multifaceted.
Girls / teens / women must become comfortable with their own cycles and with menstruation.  (So what if someone knows!?!? It's normal, natural and good. It's okay to be on your period. Truth!)
We all (men and women – young and old) need to stand up against negative views of menstruation and attitudes.  These attitudes are degrading, demeaning, belittling and we shouldn't stand for them.
We need to release the fear of discovery and embrace the wonders of menstruation in ourselves and in others.
If someone forces rules and regulations upon us that inhibit our ability to function in a healthy manner (physically as well as mentally/emotionally) then we need to stand together against it even if it means we protest. (Yes, I said the P word.)
Alternative products must be viewed as normal, healthy options if they are to become the norm.  Girls must be taught that there are options available to them besides disposable pads and tampons.
We must work (all of us) to end menstrual taboos and embrace menstruation.  If the world sees that we are no longer afraid to menstruate and refuse to be defined by the myths and silly rules that shame us into hiding the wonder and glory of menstruation, the world will change for the better.
The need for period wise school administrators, teachers, nurses and student advocates is staggering.  If you are one…please, be one! If you can help educate one, please take the time to do so.
Join us on May 9 for Confident Carry.   #May9  #ConfidentCarry