Meet Deborah (aka @Deebolynne).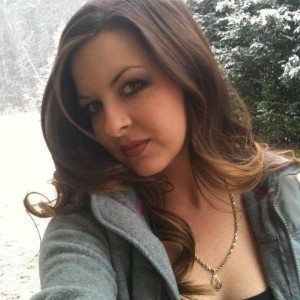 Deborah describes herself as "a 31 year old childless woman on a mission to end Endo!"
She graciously agreed to an interview. (Thank you, Deborah for sharing so openly of your experience with endometriosis (aka endo).
Who were you before endo?
Its hard for me to remember a time before endo, as I have been in pain since I was 14 yrs old from it. I know that before I was diagnosed, I was happy, brave, care-free. I was in constant pain and discomfort, but I learned to accept it and live through it. I was always trying to find out what was wrong, but after so many dead ends, I accepted the fact that it was how I was meant to live, so I refused to ever let it get me down.
How

has

endo changed you? physically, mentally, spiritually, etc.
I have questioned my faith in God a lot over the last few years. I have even questioned my own mentality. I have bad days and I have good. Accepting that I will never be a mother is the hardest part. I feel empty, like there is a void in my soul that I will never be able to fill. The disease is nothing compared to that burden and sorrow. It is a heartache like no other. I have had a complete hysterectomy, so I am in severe surgical menopause and sometimes that is hard also. I have a hard time sleeping, as night sweats are horrible. I have no periods now, which is a good thing, but I'd rather have them and be able to conceive. I find that I am angry, bitter, and as a whole, most of the time, just sad. I look at other families, and pregnant bellies and I want to scream "Why not me??" "Why couldn't my Doctors help me sooner, so I would be able to have a child also?" "What have I done in my life so awful that I have deserved to be in such horrible pain for 17 years, and now this?? Wasn't the endo pain enough?? Now my heart will forever hurt as well?"…I try to channel that pain into the Endo fight, into the war. To help fund research, to help other girls and women become more aware, to teach people about what Endo is. But sometimes, I just cry. I missed my own sister's baby shower, because it hurt my heart too much to go. My best friend didn't tell me she was pregnant for 6 months, because she didn't want to hurt me. Often times before I was diagnosed, I missed work because I was hospitalized so much from the pain. Still, no answers…..
How

is

endo changing you even now?
It's making me fight harder so no one else will ever have to go through what I have. It's made me believe that maybe this is my purpose, not as I believed, (to be a mother), but to be an Endo sister, and to fight until the day I die, for all of them, and for all our future girls, to have a cure. To have knowledge.
How old where you when you began to realize something wasn't quite right period wise?  What symptoms did you have?
I was 14 when I started experiencing my symptoms. I had pains so bad in and around my uterus that I could hardly move. I was also always constipated, as I would only have a BM once every week-two weeks. When I used the bathroom, it ALWAYS hurt, terribly. Certain foods would trigger pain, like red meats. I was always bloated. Sex hurt tremendously. I never enjoyed "penetration" until well after my hysterectomy at 30 years old. Tampons were a no go after I was about 16. They were very painful. I never bled a lot like most endo women, in fact I had an opposite experience. I only menstruated every 3-4 months and it was VERY light, more like just spotting. (My doctors told me after diagnosis, that this was probably due to my blood staying all internal.)
When were you diagnosed with endo?
I was 26 years old. I had emergency surgery for a ruptured ectopic pregnancy (an endo cyst was blocking my tube), and in cutting me open, my doctor found all of my reproductive organs bound together by stage 4 endo.
What treatment(s) were offered/tried/worked?
They scraped, cut and burned all they could in the initial ectopic surgery. Tried to salvage what they could of my other tube and ovary. I then was on Lupron for 1 yr. It gave me horrible side affects, fainting, dizziness and memory loss. i was then on Depo Provera injections, and otc IBU. Occasionally, when I was hospitalized they would give me strong Rx pain killers to go home with, but I only took them if i felt I had to to be able to function, as I didn't like how they made me feel "high".
What has endo cost you? (We know, but others don't know that the $ spent is only a fraction of the true cost of endo.)
Financially, I have had about $37,000 in doctors and hospital bills.  Physically, I lost my reproductive organs and because I had endo on my spine also I had to use a walker for over a month.  I affected my ability to walk…my back, buttocks and legs were all affected. And, it cost the life of my unborn baby….
How do you feel your life would have been/would be different if endo had not been a part of your life experience?
All I can remember of my teenage years is being in physical pain and feeling crazy because no doctor would listen to me. Now I will never have a child or family of my own like everyone else does.
But it's not just me, My mother will never meet her grandchild. My baby is gone, and I will never have a child. I will never be able to look in a child's face and see my own. My sister will never have a niece or nephew. My nephew will never have a cousin to play and grow with.  People talk about their kids to me and say and look at me like "you will never understand" or "you don't know, because you don't have them" "just adopt". I am asked all the time by people, "do you have children, or how many kids do you have?" and how do i answer "no, endo took that from me"??
For more than half of my life I have been tired. Tired of being misunderstood, underestimated, tired of being in pain, tired of my own emotions AND body failing me. Tired of feeling less important than healthy women, and unworthy of the attention, and love, that pregnant or healthy women get….I am determined to not let all that show though, as I have to be strong for the endo sisters around the world, and I have to pour that into the fight for them…
How have your close family and friends responded to your experience with endo?
Most people don't understand, and don't really try to, because it's not happening to THEM. I have a few close supporters. But not many. People don't realize how serious it is.
What support have you received from them?
Encouraging words, more than anything, and a listening ear. Julie has helped orchestrate the lemon challenge, and my mother is taking donations for me.
What did endo change about you? about your abilities? your hopes? dreams?
It took all of my hopes and dreams. It took my ability to create life, and to have a normal life.
Did endo affect your work / ability to work? Was your employer understanding and supportive?
I have always worked two jobs at a time since I have been able to work, in order to pay my medical bills. Some employers have been understanding, but most are very impatient and find it unacceptable to do anything except pushing through it and acting as if it is not happening at all. So that is what I have always done until now. Pretend like it is not even happening, because it's what's most comfortable to others, and what was the most productive to my life for so long, in order for me to live a "normal" life.
Has endo affected your personal relationships with friends and family?
Most definitely. Sometimes I find it hard to converse with them, or to even see them, because at my age, life becomes for others all about their kids. We don't have that in common…They don't always respect my fight for Endo, as they don't find it as important as their children are. Sometimes I find myself resenting them, as they never ask "how are you"? It's always their child did this or that….
What is the most important thing you want people to know about endo?
That it is a disease. It is serious and it does deserve to be known. It's not just "cramps". It is life changing and deserves a cure!!
Tell me about #LemonChallenge – how did you come up with the # and the idea?  Do you have a co-conspirator in this campaign against the ravages of endo and the push to raise awareness of and support for finding a cure for endo?
I do have a partner in this. Julie Ray Christy and I were discussing how wonderful the ALS Ice Bucket Challenge has been, how much $ and awareness it has brought forth and how we should do something similar for endo. Lemons are yellow, and the Endo ribbon color is yellow, so that's where the lemon came from. And, we thought it would be entertaining and funny to watch people's faces sucking the lemon. So, we thought maybe it would catch on quickly.
What do you hope to accomplish through the #LemonChallenge?
More awareness. If I'd had a laproscopy when I was first experiencing symptoms, I could have been diagnosed and treated a lot sooner, and my life would be a lot different now and would have been different all along. I don't want anyone else to go through what I have.
Is there anything you would like to say to other women who have been diagnosed with endo?
God Bless You. Stay Strong. Never stop searching for answers or for help in this. Never stop fighting. I, and we endo sisters as a whole, are always here for you. Do not let this dreadful disease define you. You can still be happy. You can live.  You can thrive. Just keep pushing forward. We have support groups everywhere, and although there are not many endo specialist doctors in America, it does not mean you can not become one!! and do the #LemonChallenge!! Please, help me help you by spreading the word about it!! Let's make it world wide news!!!
What are your thoughts about endo support groups?  Have you found them to be of benefit (past / present / future needs)? Would you advise women diagnosed with endo to become a part of one?
I would. I think they are wonderful. In a world where you feel like no one understands you, we are there. Sometimes a virtual hug from someone that understands, is better than a half hug from someone in front of you that will never even try to understand.
What advice do you have for the friends and family of girls and women with endo?
Please, please just give them your support. Help them fight for endo awareness. Do the Lemon Challenge. Wear yellow on March 1st. Donate to the endo research center if you can, and if not, help them take donations. Be their shoulder when they need you. Be their friend. Be patient when they are in pain. Visit them in the hospital. Never make them feel like a "patient", make them feel like a person. We endo sufferers fight battles within our own bodies that you may never understand, but you can always try. Your support means more to us than you could ever know. Help us know that as insignificant as we may feel, we do matter.
What period wise challenge would you like to share?
#LemonChallenge
What one word sums up endo for you?
War.
Is there anything else you would like to share that I've not covered in the questions?
I just want to say thank you to everyone who is supportive, any one who has done the #LemonChallenge, anyone who has donated or anyone that has simply taken the time out of their day to call and ask us how we are doing with our battle, or if they can help in any way….It means more than you could ever know!!!