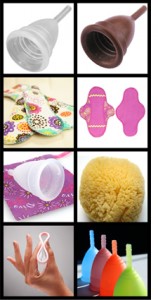 In the past few days I've heard from two women who have extreme flow during menstruation.
The amount of product used is staggering.  (And, the amount of trash produced is, too.)
Imagine using 98+ individual products – overnight pads and ultra tampons often used concurrently – for one 7 day flow period.
Now, imagine the cost involved.
The last time you purchased tampons or pads, how many did the box(s) contain?
Now, divide 98 by the answer in the previous question (number in the box of pads/tampons you bought).
And, finally, multiply that number (that you got by dividing) by the $ spent to purchase your product of choice.
What's the total?
The total $ is the minimum cost you would incur for EACH period if your menstrual experience was similar.
Could you handle that financially?  I couldn't.
Can you see how reusable menstrual products can literally be a financial savior to women with heavy menstrual flow?
Did you know they can be for you as well?  How much do you spend each month on menstrual products?  Come on, be honest.  Now, multiply that by 12 (or however many periods you have in 12 months time.  What's your total?
Did you have a "wow" moment when you did the math?
Now, multiply the $ amount by the number of years you will probably need menstrual products – 40.
Did you have a WOW moment just now?  Mine came out to almost $7000. (And, that's not counting the gas used to run to the store, incidentals purchased while out that I wouldn't have purchased if I'd not had to make that period run for product.)
Wow!
That's a down payment on a house…a new/used car in the garage…educational needs…a new beginning…a new location…a dream vacation….
Now, imagine yourself unable to pay the amount you initially gave for each month's menstrual needs because finances were too tight, or the expense too great.  And, so you relied on a credit card to meet your needs.  How long would it take to run up credit card debt for menstrual products alone?
What's the solution?
Reusable menstrual products.
menstrual cups
cloth pads
sponges
A quick search online of "cloth menstrual pads" reveals many options and sellers – too numerous to mention here.
Sea Pearls are, perhaps, the best known menstrual sponges, at least according to Google.
When it comes to menstrual cups, 5 reusable cups have FDA approval for sale in the US.
Flowing should not be costly, but it is for so many women.
Make the change to reusables and keep your dollars and change where it belongs – in your control.
Reusables are the way to go with heavy flow…with any flow.  It just makes better sense, for your wallet and for the environment, too.
Be period wise – be dollar wise.