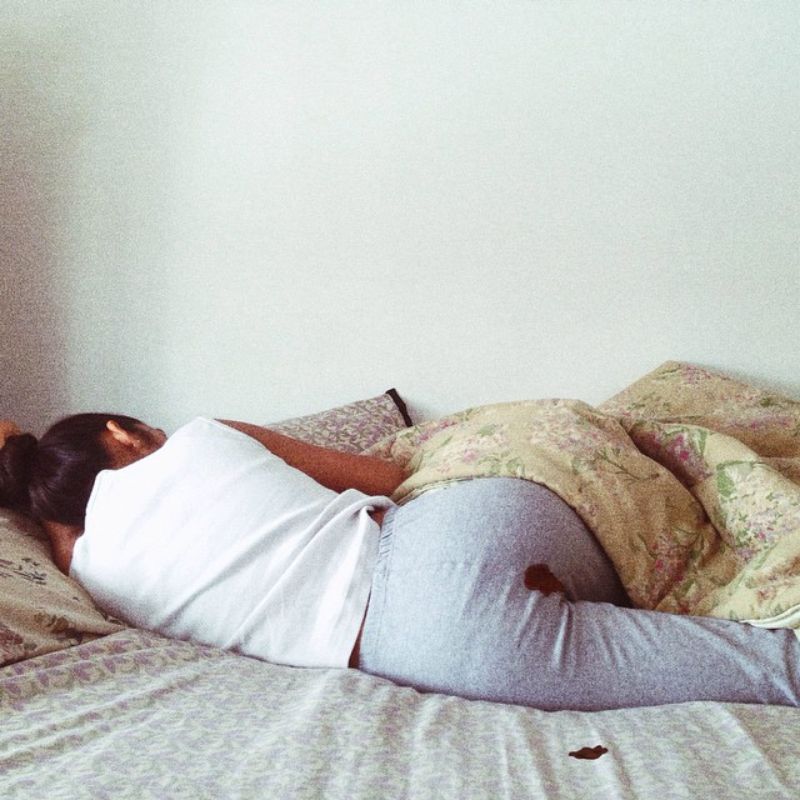 I first saw this picture while scanning Facebook.  My first reaction was to smile. My own sleep leaks came to mind – and a reminder that I"m part of something so much bigger than I.
My eyes drifted to the caption below the picture.
This Photo Was Removed By Instagram.
I looked at the photo again.
The warm fuzzy feelings I'd had earlier evaporated like raindrops on a hot rock.  I clicked on the link and began to read.
Someone at Instagram removed Rupi Kaur's picture because it didn't conform to their interpretation of Instagram's Community Standards.
(How would a picture of a sleeping menstruating woman be a threat to community safety?)
Unbelievable!
(that Instagram would pull this picture)
Scandalous!
(that Instagram would consider this picture to be inappropriate)
Improper!
(that's what Instagram's reaction is)
Unforgivable!
(an apology does not erase it – change is required)
Uncalled for!
(the ignorant and asinine reactions of the few who dictate to the many)
Intolerable!
(that's what this is and we can't sit back and be silent about it)
Rupi Kaur has lifted the banner high and we must join in the movement to unfetter menstruation. Let our voices be heard in support of the freedom to menstruate uncensored.
Menstruation is not shameful.  It is not pornographic. It is not nasty. It is not something that should be hidden or denied.
Menstruation is glorious. It is beautiful. It is natural. It is creative. It is something that should not be hidden and must never be denied.
Ignorance must come face to face with truth and who better to speak it than those who menstruate?!
Speak up! Speak out! Let your voice be heard about all things period wise, and let no one censor you, period wise!
Follow Rupi Kaur.