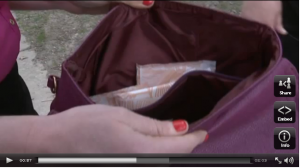 The recent suspension of a 17 year old girl for carrying a purple clutch containing feminine hygiene supplies caught my attention.  It reminded me of the "all clear" rule enacted last year by the NFL.  However, this goes a step farther and bans everything that would allow students to conceal anything.
That anything includes feminine hygiene products.  Apparently the Principal's position is that teenage girls should feel confident enough to place their feminine hygiene needs in a clear bag for all the world to see and carry it with them to class throughout the days they are menstruating, or expect to become menstrual.
And, perhaps that's what these girls should do until this rule is struck down. Perhaps the girls should band together and bring feminine hygiene products in a clear confident carry bag every day whether they are menstruating or not.
I wish all girls and women were so confident in themselves and with menstruation that they were comfortable doing just that.  It would go a long way in ending the embarrassment that so often (and unnecessarily) accompanies things period wise.
And, it would also put an end to the idiotic assumption that menstruation requires a doctor's permission slip because it's a medical issue.
A medical issue?  Um…the last time I checked the definition of "medical" it said the word related to the treatment of illness and/or injury.
Menstruation is NEITHER.
It's a normal function of the female body.  Treating it as anything otherwise is ignorant and sexist.  It's demeaning, degrading, indefensible, and, it smacks of sex-based discrimination.
I call for a day of confident carry on May 9 to raise awareness about the plight of menstruating girls and women everywhere.  Let's end these ridiculous menstrual taboos and stereotypical assumptions about those who menstruate.  Let's put a stop to the assassination of confident menstrual lifestyles by those who assure us they mean well and that it's for our own good.
Girls at Galesburg High, and in schools across the land, are you willing to band together in support of your right to menstruate confidently, whether privately or publicly, as YOU choose and not as it's chosen for you?  Join me in carrying feminine hygiene products where all can see on May 9.
Period wise women buck the norm.  What's your norm and are you brave enough to step out of it for just one day for confident carry?