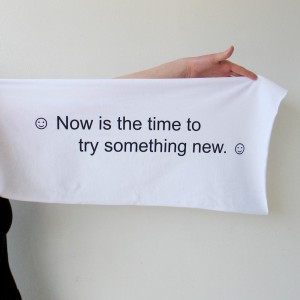 I'm often asked, "Why would I want to try a different menstrual product if I'm happy with the one I'm using?"
My reply?  "Why wouldn't you?"
All too often we settle for what is because of fear.
Yep.  Fear.
I'm afraid I won't like it.
I'm afraid it will be money wasted.
I'm afraid it will be a waste of time.
I'm afraid I will have issues with leaks.
I'm afraid I won't be able to use a…(cup, sponge, tampon, cloth pad, ultra thin pad, pad with wings…)
I'm afraid it won't work for me.
How will you know if you don't try?
When did we become afraid to try new things? Hey, we're women! We're fearless!  We LOVE new things!
New shoes, new purses, new hair styles, new clothes, new panties, new cars, new friends, new experiences, new social media groups….
We're all about change and innovation.  So, why do we stick with the same old menstrual product year after year after year?
Hey, I have friends who are still using the SAME product they began using when young teenagers.  Times have changed.  Bodies have changed.  Menstrual needs change. And, so do menstrual products.
I'll bet you have shoes for every event and activity – work, church, play, exercise, beach, pool…and I'm guessing you have one menstrual product (at best two) that you have used for years and years.
Question – what will you do when the company stops making them…changes them…store stops carrying them?
(I remember the panic I felt when OB Ultras were not available.)
Take a look at what's out there. Don't be afraid. Remember – you are fearless! And, truly, there's nothing to fear.
And, while I'm on this soapbox, encourage the girls in your life to explore and experience many options.  Don't let them settle for just one. And, don't let them be afraid to try new products. Encourage menstrual openness and creativity via all the options available. Menstrual fear should not be a part of their experience.
Why try a new product?  Because your period is worth it!  And, so are you!
Besides, It's period wise!