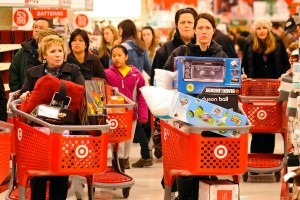 Are you ready?
Black Friday is upon us.
When you head out, be prepared…period wise.
Even if you aren't on your period, or even expecting her arrival this weekend, make sure you're prepared when you leave the house.
Even if you don't find yourself in need of feminine hygiene products, someone else might. It's possible that one out of every four women you see today will be menstruating.
Tuck an extra pad and/or tampon into your purse…there's nothing like hearing the words "thank you" unless you are the one saying them.