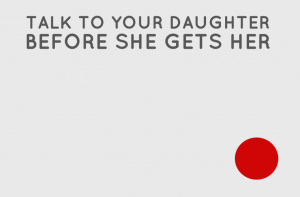 Whether or not your daughter has experienced her first period, take a look at Kate's delightful post on Stay At Home Mum's site.
Kate offers puberty and period wise advice, as well as sage mom advice, too.
As you will see below, Kate urges moms – talk to your daughter before she gets their period.
They grow up so quickly and the baby girl you brought home is no longer a tiny little bundle. You've been there to help her learn and grow and have watched her experience so many new things. The time is now coming for your little girl to blossom into a young lady. There'll be plenty of mood swings, grumbling, some stubbornness, pimples and her first period.  It can be a very scary thing for young girls, the thought of getting her period is really quite daunting (whether they admit it or not). You'll know when it's almost time and she'll start to notice some things too. Hair growing in different places, skin condition changing, sleep patterns may change, her body will begin to develop differently, she'll start getting cramps and a multitude of other things. The best way to approach puberty is with knowledge. Help your daughter by supplying her with all the information she will need BEFORE she gets her first period to help her reach this milestone in her life without being scared. Even young children ask questions, be honest with them and start with the BASICS when they are beginning to ask questions and spread the information out. Don't expect to just sit down and talk about it all and think that's the end of it. It's a lot to take in and some of it may not be age appropriate depending on when you start your talks. Read more.
What puberty or period wise advice would you add to what Kate offers?